LEARN THE CLASS DETAILS FOR OUR WIDE VARIETY OF OFFERINGS!
POWER classes are designed to work for students of ALL experience levels. You will notice that each class is built on the foundation of the Journey into Power sequence. Your teacher will provide options to modify or intensify each pose. POWER classes will give you a strong foundation and provide you with the freedom to discover new possibilities.
60 minutes, 90 degrees with humidity
BEGINNERS YOGA classes are open to students of all experience levels BUT are tailored to brand new students. You will experience a MODIFIED version of the Journey Into Power sequence. Your teacher will provide more instruction so that you can learn the alignment of poses and other foundational principles.
60 minutes, 90 degrees with humidity
YOD YOGA stands for "Your Own Determination" and these classes are open to ALL levels. Your own determination will drive you through this combination class of high intensity and vinyasa flow yoga. You will experience new strength, flexibility, balance, and power. Your class will combine 20 minutes of vinyasa yoga, followed by 20 minutes of HIIT, and will finish with 20 minutes of restorative yoga. 
60 minutes, 90 degrees with humidity
DEEP FLOW classes are accessible to students of all levels and are a great option for beginners because they move at a slower pace with a longer floor series. Don't be fooled, slower does NOT necessarily mean "easier." You will experience longer holds, with an emphasis on hip opening poses. This will aid your body in releasing built up tension and stress.
60 minutes, 90 degrees with humidity
MEDITATION + RESTORE classes are open to students with any level of experience. You will meditate and move slowly through restorative type yoga postures, each held for a longer period of time. Through the stillness of this practice, you will have the space to journey inward and develop the healing flexibility your body craves. 
60 minutes, no heat
LIVE VIRTUAL classes are offered for all of our in studio adult class offerings. Look for class type at the time you want to practice and select the option labeled "VIRTUAL" on our regular schedule to book. You can join the virtual session via the app OR from the link you'll receive in an automated email when you book.
As long as you have an internet connection, you can take your practice ANYWHERE!
We are Folsom's family yoga studio! Our schedule is filled with a wide variety of classes for beginners, expecting moms, kids, and adults of ALL ages. We have something for everyone, no matter your experience level!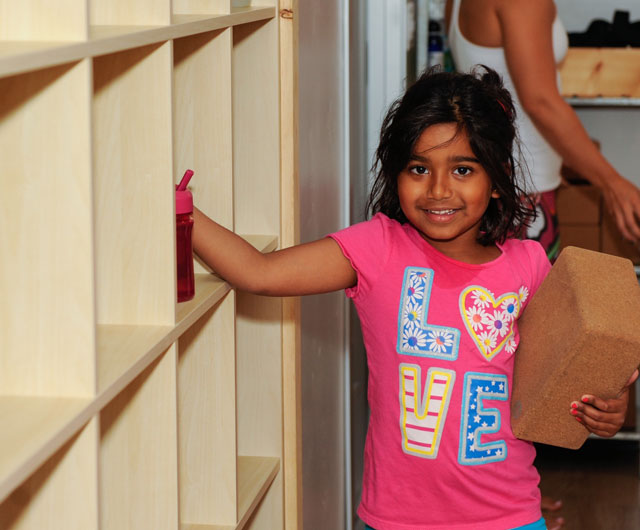 KIDS CLASSES classes are open to kids ages 5-13 and are designed to empower and inspire your children through the practices of  yoga and meditation. Yoga and mindfulness have been shown to improve both physical and mental health in school-age children. Your child will experience improved balance, strength, and endurance. Additionally, our hope is that these classes provide your children with tools to manage stress in their day-to-day life.
60 minutes, no heat
PRENATAL YOGA classes offer soon-to-be mamas a supportive space to do yoga.  You will experience increased balance, circulation, flexibility and muscle tone for a healthy pregnancy. Your teacher will focus on postures designed to help you open and strengthen all the right muscles to assist in preventing the aches and imbalances common in pregnancy. You'll also experience meditation, deep breathing, and relaxation tools to assist you in labor and delivery.
60 minutes, no heat
PRIVATE YOGA: AVAILABLE IN STUDIO AND ON ZOOM
Private yoga can give YOU the opportunity to connect with an experienced teacher who will tailor the practice to your needs and work at your pace. Looking for a unique and fun group activity? Private sessions are also offered for groups!
GROUP CLASS MEMBERSHIP PACKAGES
At Spotted Dog Yoga, we are committed to helping our clients visualize AND realize their individual goals. With a variety of membership options, we are able to match each of our clients with the package that will best suite their needs. Our memberships require no annual contract and you can easily upgrade or downgrade your membership plan as needed. In addition, we offer class passes in quantities of 15 and 30.
This option is perfect if you are new to yoga or are adding yoga as a supplement to your existing workout plan. This membership is affordable and will allow you to commit to a consistent one practice per week goal.
The 8 Class Membership will provide you with the commitment and consistency necessary to achieve your goals. Those who commit to attend a minimum of two classes per week are typically going to see greater results faster.
Want to get the most out of your yoga practice? Commit to 3 or more classes per week and you will see amazing results in your body and your life!
You are committed to your yoga practice, but don't want to commit to monthly payments…no problem! You can pay up front for the year but still receive the benefits of an unlimited membership.
We offer Discounted Rates for students, teachers, first responders, veterans, seniors (65+) and some local corporations. Please inquire about these special rates at the front desk (photo ID required).
We offer Custom Packages for families!